24
May
2014

This thoroughly modern take on a traditional and very well known Lebanese salad is just as quick to make as the original version using bulgar (cracked wheat). It comes to Green Tea & Treacle via the lovely Louise Edney who runs the Nourishing Nosh Cooking School.
Quinoa (pronounced keen-wa) is often mistaken for a grain but is in fact a seed. Originating in the Andes region of South America it's gluten free, protein and fibre rich and low GI.
The popularity of quinoa over the past few years has seen it move from a novel ingredient to mainstream item, and it can now be readily purchased in the health food section of most local supermarkets in Australia.
Louise tells me that like grains, quinoa is high in phytates and soaking helps to release these making its other nutrients more readily available. If you have the time start this recipe the day before. If you don't, simply prepare your quinoa as per the directions given to you on pack.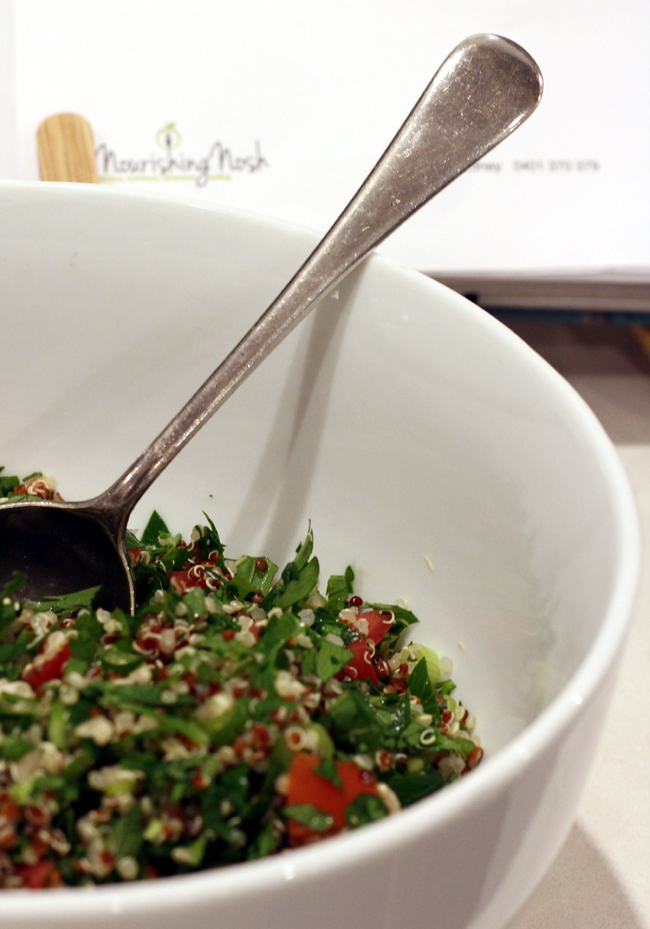 Quinoa Tabbouleh
Serves 8 as a banquet dish
¾ cup dried quinoa
½ cup spring onions, thinly sliced (this is about 4)
2 cups parsley
¼ cup mint, roughly chopped
500g tomatoes, deseeded and chopped
Dressing
¼ cup olive oil
2 tbsp lemon juice (roughly the juice of one lemon)
1 tsp salt
½ tsp pepper
Rinse and soak quinoa in warm acidulated water overnight or for a few hours (water containing acid such as lemon or lime juice or whey.)
Drain the quinoa and add to a saucepan of water. Bring to the boil and them reduce to a simmer and cook for 5 minutes*. The cooking time is reduced with soaking. Quinoa is cooked when you can see a light "halo" around the grain. Strain gently through a sieve and spread out to dry.
In the meantime prep the salad vegetables.
Combine quinoa and spring onions in a bowl and squeeze gently together so that the quinoa takes on the taste of the spring onions.
Before combining all of the ingredients set some tomato and parsley aside. Add the herbs and tomatoes to the quinoa and mix well.
Combine dressing ingredients in a small jar and shake well. Dress just before serving and top with reserved parsley and tomatoes.
*Note that the cooking time varies considerably and if you are used to cooking your quinoa without soaking, you need to halve the cooking time.
If you've not really introduced yourself to quinoa and want to get better acquainted, here are a few fabulous recipe destinations that will help you to get to know it better:
Quinoa Salad with lemon, basil and a touch of cumin from Heidi at Apples under my bed
Warm salad of roast cauliflower & quinoa (and some great quinoa facts) by Jules at Stone Soup
Quinoa With Roasted Pumpkin, Zucchini and Basil Pesto by Teresa the Healthy Chef
Enjoy
Karen xxx