8
Oct
2017

Today is a big day. Today Green Tea and Treacle turned 4. Today I started a project I've wanted to start for a long time. Today I am posting for the first time in more than two years. Today is a big day.
Sometimes the fear of failure, not being good enough, stops you from doing. Being super busy in a now not so new job means I have less time for the things I love to post about. And even less time to write about them. And write about them well.
Today, I started work on my project. I've carried the printers drawer around with me for a long, long time. Never ready to give it up. Knowing I would one day bring it to life. Hang it on the wall. Let it show off the precious small things I've collected.
Today was the day. And in working away, cleaning, sanding and polishing I realised I could also make another start. A start on talking to you again. Baby steps, short and sweet.
What have you been meaning to get to? What are you enjoying doing?
Until next time. And I promise it won't be so long …
xx Karen
21
Sep
2015

Breakfast is a passion of mine so I'm always keen to share good brekkie solutions. Particularly when so many of us struggle to find time in the morning.
Why is brekkie so important? The benefits to health, mood and weight are well established, and if you're keen for detail, head on over to Enjoy Breakfast.
Brekkie is also a great time to get in a few super foods. I'm a firm advocate of super foods. Just not the ones that are hard to find, hard to pronounce and cost an arm and a leg. I'm more of an everyday superfood fan.
You'll find everyday superfoods in your fridge or pantry. They're the over achievers in a meal or recipe. They deliver plenty of the good stuff with not so much of the bad. I'm talking wholegrains, fruits and vegetables, eggs, nuts, seeds, oily fish. Foods that give you more bang for your buck so to speak
When you're strapped for time, cereal for brekkie (preferably wholegrain) is the quickest and easiest way to get the job done. My breakfast muesli is a firm favourite, if I've had time to make it. But, when breakfast interest wanes, I've found there's nothing like a smoothie to tempt the most reluctant breakfast eaters.
I had the pleasure of demonstrating these recipes on a P&O Food and Wine Cruise recently with the lovely Chef Daniel from Fork and Knife Catering. And provided you have ingredients on hand and at the very minimum a good quality stick blender you'll be done and on to clean up in around than 5 minutes.
These recipes each make two serves, but if you only need one, simply pop half back in the freezer in a Ziploc bag or container. Five minutes on the bench the next time you need a smoothie should be enough to soften it so you can pour into a glass with nothing more to do other than consume.
And, as with all of my recipes, mix them up and make them your own. Play with herbs and spice, try seasonal fruit combos and if you have problems with dairy simply substitute with the myriad of alternatives available.
Are you a smoothie convert? What are your favourite ingredient combos? And do you save them for breakfast or love them as a nourishing snack anytime of the day.?
Berry breakfast smoothie
Makes 2 big glasses (approx 300ml each)
¾ cup cup (187ml) low fat milk
¼ cup (75g) low fat Greek yoghurt
¼ cup (20g) rolled oats
1 banana frozen
1 heaped cup (300g) frozen berries
honey to taste
Place all ingredients in a blender and blend till smooth and creamy
Serve in glasses with a straw and spoon or enjoy one serve and freeze the other for later
Tips
Make use of fruit available in the freezer section of your supermarket for times when seasonal fruit's not suitable.
Stash bananas past their prime into the freezer. Peeling, dicing and storing in a container or ziploc bag makes them easiest to use.
Use any yoghurt on hand but if its flavoured you're not likely to need additional sweetener.
Tropical greenie
If you've been slow to adopt the green smoothie then this one's for you. Not too out there it tastes great but remains full of the goodness that leafy greens bring. See my tips to if you're keen to health it up even further.
Makes 2 big glasses (approx 300ml each)
2 cups fresh baby or English spinach
1 cup low fat milk
¼ cup oats
1 medium banana, frozen
1 heaped cup frozen mango and pineapple)
15-20g ginger
Blend green leaves, oats and milk till smooth then add remaining ingredients and blend till creamy.
Serve immediately or freeze to enjoy later.
Tips
Use any leafy greens you like. If you use kale and don't have a vitamiser, remove the hard centre veins first.
Try almond meal, LSA or chia instead of oats
Mix up your fruit combinations depending on the season or what's in your freezer
Add some mint if its on hand
31
May
2015

I presented on time management at a conference of dietitians recently and learnt some interesting facts along the way.
It might come as no surprise that when surveyed about work life balance1 the overwhelming response by women was
"constantly rushed and pressed for time"
And given Australia is one of the poorest ranking countries in the world for equality in the sharing of domestic and caring duties2 you and I know why.
Now I shared a number of tips from the experts on how to manage your time better however, the last tip I offered was my own: a slow cooker.
As a working woman to be able to channel domestic goddess helps. But you have to admit that a little help with this goes a long way. From personal experience finding ways to shift domestic duties away from those peak times of 6-8am and 5-7pm helps. Cooking in bulk on the weekend so you have freezer ready meals on hand is one of my time savers. The other is my slow cooker AKA the crock pot.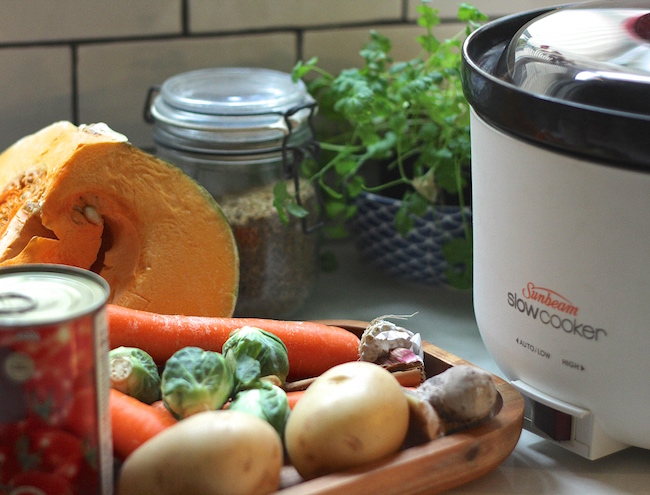 A hand-me-down from my mum, my slow cooker is a little daggy by modern standards and has long languished in the back of the cupboard. However desperate times call for desperate measures so around a year ago I pulled it out and gave it a go. By prepping the meal in the evening once the kids are in bed, storing it in the fridge ready for the morning (use a bowl or container other than the cooker inner) I haven't looked back.
My slow cooker conversion was initially hampered by the dearth of good slow cooker recipes. Google 'slow cooker' and you will get a heap, but most will be oven cooked. So I did some homework and I learnt you can adapt oven or stove-top slow cook recipes by keeping a few things in mind:
The right recipe? 
Casseroles, soups and braises are slow cooker gold. You will however want a recipe that has a cooking time of at least an hour or more either on the stove top or in the oven.
High or low?
Slow cookers work by coming up to temperature and then holding that temperature. The "HIGH" setting will come up to temperature quickly; the "LOW" setting, warms more slowly — either way the end result pretty much the same. What is most important however is how long you want to cook.
How Long?
Go by your original recipe for cooking times. For recipes of under an hour cook for 2-3 hours on HIGH or 6-8 hours on HIGH. For those where the original recipe is more than an hour, cook for 4-6 hours on HIGH or 8-12 hours on LOW in your slow cooker.
Recipe modification?
For best success you will need to make a few tweaks to the original recipe.
Reduce liquid by around ½ – 1 cup. Because there is no steam loss the liquid produced is greater.
For even cooking cut your ingredients to a similar size.
Boil dried legumes (peas and beans) for 10-15 minutes before use.
Add more delicate vegetables such as cauliflower, broccoli, peas and spinach in the last half hour of cooking to prevent them turning to mush.
Brown meat and fry onions and garlic for a more flavourful result
And if you need some help here are a few great recipes to get you started:
Kitchenaid's moroccan lamb stew and chicken and potato curry
xx Karen
The Australian Work and Life Index 2014
Sayer et al 2009