7
Dec
2013

No doubt you've  heard it before "breakfast's the most important meal of the day" or perhaps "breakfast like a king, lunch like a prince…..".
But do these catch phrases have any substance?  Is there any science to the hype? And more importantly, has breakfast actually got anything to do with health? 
You may, or may not, be surprised to know that breaking the fast after an overnight snooze has plenty to do with health. Stick with me and I'll run through a quick breakkie 101.
Breakfast can:
Help you and your children perform. Yep, it's true, research shows breakfast improves concentration, alertness and memory.
Keep you in shape. The most successful dieters are those recorded by the National Weight Control Registry in the US, and most of them eat breakfast every day. 
Boost your nutrition. Aussies that eat breakfast are more likely to eat less fat, more fibre and get more of the important nutrients like iron, folate and calcium than breakfast skippers.
Stave off long term health issues. Chronic skippers be they adults or children, are at greater risk of heart disease and diabetes than those who break the fast on a regular basis.
Make you happy. Research shows breakfast eaters are more positive and may have lower rates of depression
With all that great news you'd think we'd be leaping out of bed in the morning to make sure we eat. But the reality for most of us is nothing like it is for this popular bear…
"When you wake up in the morning, Pooh," said Piglet at last, "what's the first thing you say to yourself?"
"What's for breakfast?" said Pooh. "What do you say, Piglet?"
"I say, I wonder what's going to happen exciting today?" said Piglet.
Pooh nodded thoughtfully. "It's the same thing," he said."
In fact as many as 1 in 4 school age children and around 65% of adults miss breakfast on a regular basis. So, if  these stats describe you or your family why not take an extra five minutes in the morning to make breakfast a priority? I've got a few tips below that might help. Go on, give it a go!
No time to eat?
Whip up a breakfast sandwich the night before – think grainy bread, avocado with cooked chicken or ham and toast it while getting ready or take it to work and pop it on the grill.
Eat a bowl of cereal with milk or yoghurt – it only takes 5 minutes.
Prep yourself a bircher muesli mix the night before. If you're too rushed to eat it at home grab a spoon and enjoy it al desko when you get to the office.
Keep a stash of breakfast or nut bars in the pantry and grab one along with a piece of fruit or a tub of yoghurt as you head out the door.
Whip up a breakkie frittata on the weekend and have it sliced ready to reheat in the morning.
Bored with breakfast?
Blend up a breakfast smoothie made with frozen fruit, yoghurt, milk and a hand full of oats. This is a personal favourite and easily returns my children to good humour when they appear in the kitchen with the breakfast doldrums.
Serve up scrambled eggs on grainy toast. A quick protein and fibre rich meal that will keep you feeling satisfied for longer and hunger pangs at bay.
Enjoy morning oats with fresh or stewed fruit and a nut and seed mix or a dash of cinnamon – delish.
Try making my Cranberry and Almond Toasted Muesli. It's yummo… 
Seek out inspirational breakfasts like those you can find on Heidi's Wednesday Breakfast Club
Say it with images
I'll wrap this post up with a couple of great infographics from the Australian Breakfast Cereal Manufacturers Forum (I love a good infographic) as I really do believe a picture can often say so much more than words.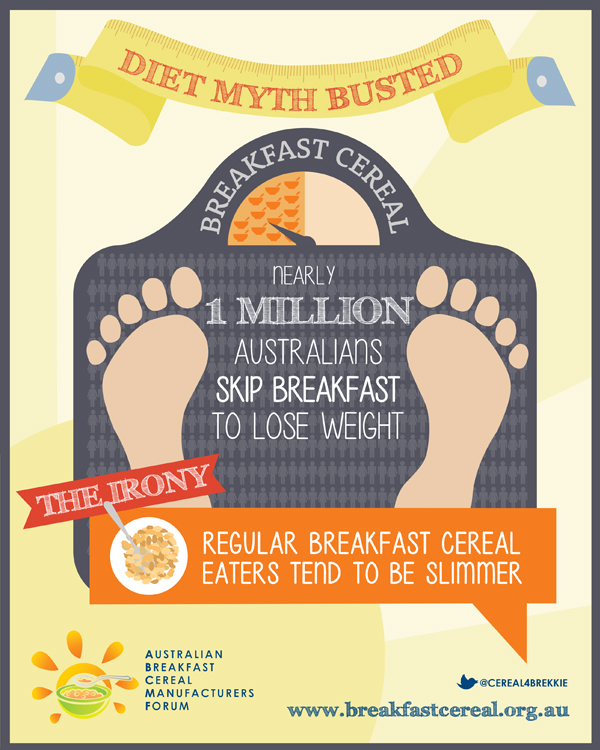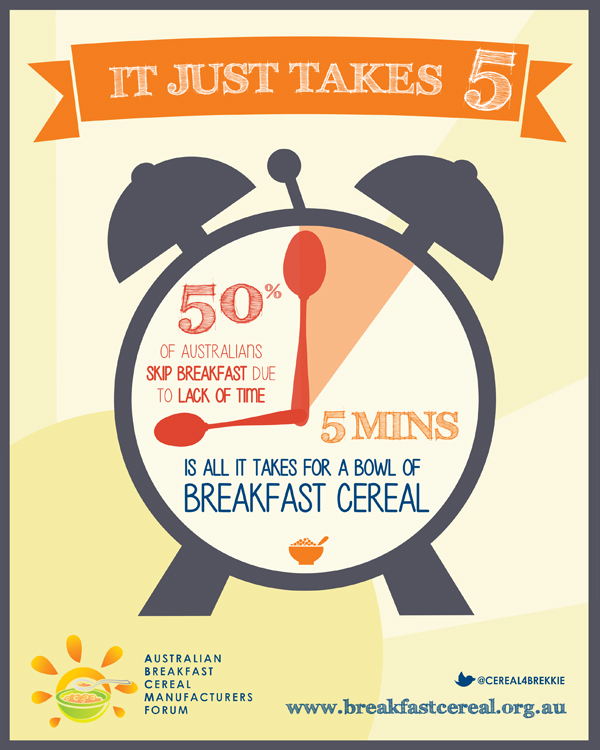 Images for this post generously supplied by the ABCMF. And no, I received no money or breakfast cereal or goods of any kind  for the writing of this post.
Karen xx