6
Dec
2013

We're not big fans of sultanas and raisins in our house so efforts at eating most muesli's tend to end up with what looks very much like a trail of dead flies around the bowl. Or they all end up in my plate.
That said the tart surprise of cranberries combined with the more subtle sweetness of dried apricots or apple are a real winner so this muesli goes down a treat. Paint this recipe with your own fruit and nut preferences and I'm very happy for you to then call it yours…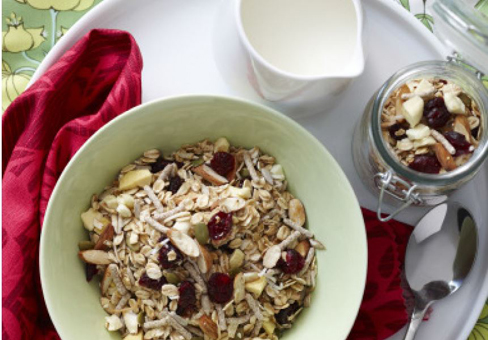 Cranberry & Almond Muesli
Makes approx 6 cups
4 cups (360g) traditional rolled oats
¾ cup  (110g) raw almonds, roughly chopped – I add pistachios too  for a special treat
½ cup (80g) sunflower seed kernels
¼ cup (40g) pepitas (pumpkin seed kernels)
¼ cup (35g) sesame seeds
½ cup (35g) shredded or flaked coconut
½ cup (125ml) apple juice

2/3

cup (100g) sweetened dried cranberries 

2/3

 cup (100g) dried apple, finely diced

2/3

cup (50g) processed bran
Preheat your oven to 180C or 160C fan and combine oats, almonds, sunflower seed kernels, pepitas, sesame seeds and shredded coconut in a large bowl. I've also given you weights as I love being able to just add everything to the bowl while it sits on a set of scales. Add apple juice and mix well.
Spread mixture evenly over one large or two smaller baking trays and then bake for 30 min, stirring every now and then until mixture is the colour you'd like it. Watch it closely towards the end of cooking time to prevent it burning. Remove trays from the oven and allow to cool.  Transfer to a large bowl.
Stir in remaining ingredients and mix to combine. Store once completely cool in an airtight jar or container for up to 2 months. Enjoy it with milk or yoghurt and fruit toppings of your choice.
GOOD STUFF TO KNOW:
If you like a really crunchy muesli add 1tbsp of vegetable oil to the mix at the same time you add the apple juice. Just remember this will bump up the kilojoules.
If you like your fruit a little chewy, add this to the mixture for the last 10 minutes of the baking time.
Not a toasted muesli fan? Simply combine everything except for the apple juice to make a natural style muesli.
You may wonder why I give weights for many of my recipes. Some might say laziness however I prefer to say efficiency. One bowl on a set of scales does away with all those pesky cups for measuring. It's as simple as that.
Karen xx