31
May
2015

I presented on time management at a conference of dietitians recently and learnt some interesting facts along the way.
It might come as no surprise that when surveyed about work life balance1 the overwhelming response by women was
"constantly rushed and pressed for time"
And given Australia is one of the poorest ranking countries in the world for equality in the sharing of domestic and caring duties2 you and I know why.
Now I shared a number of tips from the experts on how to manage your time better however, the last tip I offered was my own: a slow cooker.
As a working woman to be able to channel domestic goddess helps. But you have to admit that a little help with this goes a long way. From personal experience finding ways to shift domestic duties away from those peak times of 6-8am and 5-7pm helps. Cooking in bulk on the weekend so you have freezer ready meals on hand is one of my time savers. The other is my slow cooker AKA the crock pot.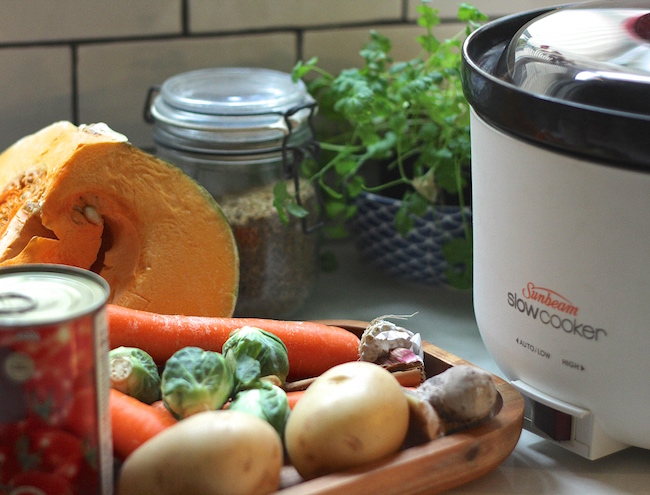 A hand-me-down from my mum, my slow cooker is a little daggy by modern standards and has long languished in the back of the cupboard. However desperate times call for desperate measures so around a year ago I pulled it out and gave it a go. By prepping the meal in the evening once the kids are in bed, storing it in the fridge ready for the morning (use a bowl or container other than the cooker inner) I haven't looked back.
My slow cooker conversion was initially hampered by the dearth of good slow cooker recipes. Google 'slow cooker' and you will get a heap, but most will be oven cooked. So I did some homework and I learnt you can adapt oven or stove-top slow cook recipes by keeping a few things in mind:
The right recipe? 
Casseroles, soups and braises are slow cooker gold. You will however want a recipe that has a cooking time of at least an hour or more either on the stove top or in the oven.
High or low?
Slow cookers work by coming up to temperature and then holding that temperature. The "HIGH" setting will come up to temperature quickly; the "LOW" setting, warms more slowly — either way the end result pretty much the same. What is most important however is how long you want to cook.
How Long?
Go by your original recipe for cooking times. For recipes of under an hour cook for 2-3 hours on HIGH or 6-8 hours on HIGH. For those where the original recipe is more than an hour, cook for 4-6 hours on HIGH or 8-12 hours on LOW in your slow cooker.
Recipe modification?
For best success you will need to make a few tweaks to the original recipe.
Reduce liquid by around ½ – 1 cup. Because there is no steam loss the liquid produced is greater.
For even cooking cut your ingredients to a similar size.
Boil dried legumes (peas and beans) for 10-15 minutes before use.
Add more delicate vegetables such as cauliflower, broccoli, peas and spinach in the last half hour of cooking to prevent them turning to mush.
Brown meat and fry onions and garlic for a more flavourful result
And if you need some help here are a few great recipes to get you started:
Kitchenaid's moroccan lamb stew and chicken and potato curry
xx Karen
The Australian Work and Life Index 2014
Sayer et al 2009