7
Dec
2013

No doubt you've  heard it before "breakfast's the most important meal of the day" or perhaps "breakfast like a king, lunch like a prince…..".
But do these catch phrases have any substance?  Is there any science to the hype? And more importantly, has breakfast actually got anything to do with health? 
You may, or may not, be surprised to know that breaking the fast after an overnight snooze has plenty to do with health. Stick with me and I'll run through a quick breakkie 101.
Breakfast can:
Help you and your children perform. Yep, it's true, research shows breakfast improves concentration, alertness and memory.
Keep you in shape. The most successful dieters are those recorded by the National Weight Control Registry in the US, and most of them eat breakfast every day. 
Boost your nutrition. Aussies that eat breakfast are more likely to eat less fat, more fibre and get more of the important nutrients like iron, folate and calcium than breakfast skippers.
Stave off long term health issues. Chronic skippers be they adults or children, are at greater risk of heart disease and diabetes than those who break the fast on a regular basis.
Make you happy. Research shows breakfast eaters are more positive and may have lower rates of depression
With all that great news you'd think we'd be leaping out of bed in the morning to make sure we eat. But the reality for most of us is nothing like it is for this popular bear…
"When you wake up in the morning, Pooh," said Piglet at last, "what's the first thing you say to yourself?"
"What's for breakfast?" said Pooh. "What do you say, Piglet?"
"I say, I wonder what's going to happen exciting today?" said Piglet.
Pooh nodded thoughtfully. "It's the same thing," he said."
In fact as many as 1 in 4 school age children and around 65% of adults miss breakfast on a regular basis. So, if  these stats describe you or your family why not take an extra five minutes in the morning to make breakfast a priority? I've got a few tips below that might help. Go on, give it a go!
No time to eat?
Whip up a breakfast sandwich the night before – think grainy bread, avocado with cooked chicken or ham and toast it while getting ready or take it to work and pop it on the grill.
Eat a bowl of cereal with milk or yoghurt – it only takes 5 minutes.
Prep yourself a bircher muesli mix the night before. If you're too rushed to eat it at home grab a spoon and enjoy it al desko when you get to the office.
Keep a stash of breakfast or nut bars in the pantry and grab one along with a piece of fruit or a tub of yoghurt as you head out the door.
Whip up a breakkie frittata on the weekend and have it sliced ready to reheat in the morning.
Bored with breakfast?
Blend up a breakfast smoothie made with frozen fruit, yoghurt, milk and a hand full of oats. This is a personal favourite and easily returns my children to good humour when they appear in the kitchen with the breakfast doldrums.
Serve up scrambled eggs on grainy toast. A quick protein and fibre rich meal that will keep you feeling satisfied for longer and hunger pangs at bay.
Enjoy morning oats with fresh or stewed fruit and a nut and seed mix or a dash of cinnamon – delish.
Try making my Cranberry and Almond Toasted Muesli. It's yummo… 
Seek out inspirational breakfasts like those you can find on Heidi's Wednesday Breakfast Club
Say it with images
I'll wrap this post up with a couple of great infographics from the Australian Breakfast Cereal Manufacturers Forum (I love a good infographic) as I really do believe a picture can often say so much more than words.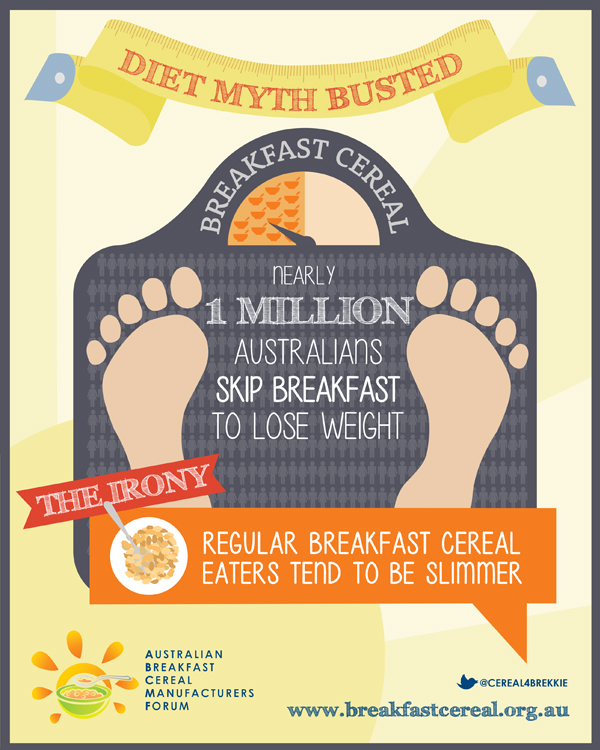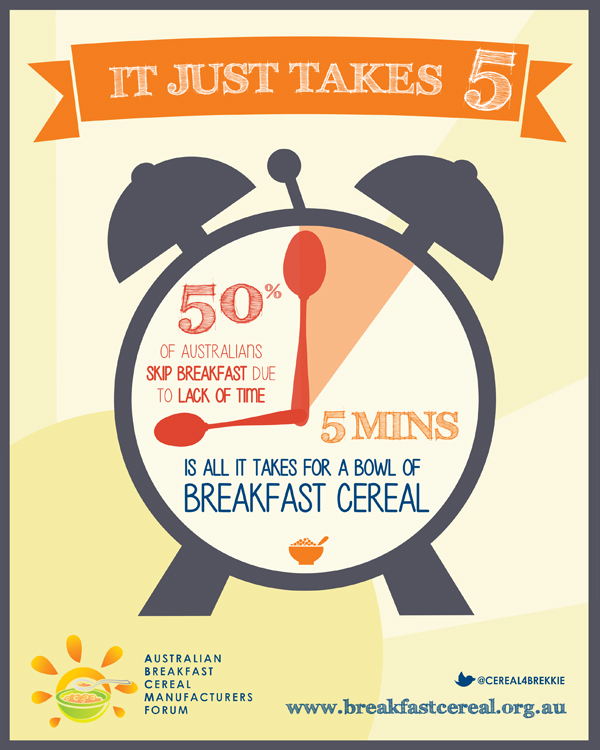 Images for this post generously supplied by the ABCMF. And no, I received no money or breakfast cereal or goods of any kind  for the writing of this post.
Karen xx
6
Dec
2013

We're not big fans of sultanas and raisins in our house so efforts at eating most muesli's tend to end up with what looks very much like a trail of dead flies around the bowl. Or they all end up in my plate.
That said the tart surprise of cranberries combined with the more subtle sweetness of dried apricots or apple are a real winner so this muesli goes down a treat. Paint this recipe with your own fruit and nut preferences and I'm very happy for you to then call it yours…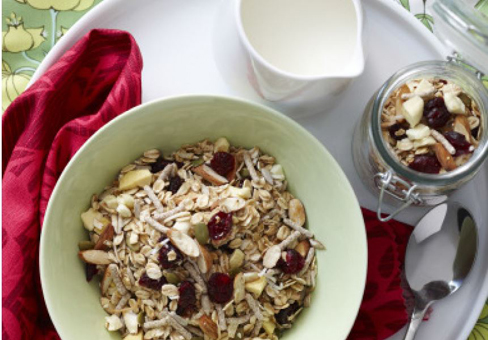 Cranberry & Almond Muesli
Makes approx 6 cups
4 cups (360g) traditional rolled oats
¾ cup  (110g) raw almonds, roughly chopped – I add pistachios too  for a special treat
½ cup (80g) sunflower seed kernels
¼ cup (40g) pepitas (pumpkin seed kernels)
¼ cup (35g) sesame seeds
½ cup (35g) shredded or flaked coconut
½ cup (125ml) apple juice

2/3

cup (100g) sweetened dried cranberries 

2/3

 cup (100g) dried apple, finely diced

2/3

cup (50g) processed bran
Preheat your oven to 180C or 160C fan and combine oats, almonds, sunflower seed kernels, pepitas, sesame seeds and shredded coconut in a large bowl. I've also given you weights as I love being able to just add everything to the bowl while it sits on a set of scales. Add apple juice and mix well.
Spread mixture evenly over one large or two smaller baking trays and then bake for 30 min, stirring every now and then until mixture is the colour you'd like it. Watch it closely towards the end of cooking time to prevent it burning. Remove trays from the oven and allow to cool.  Transfer to a large bowl.
Stir in remaining ingredients and mix to combine. Store once completely cool in an airtight jar or container for up to 2 months. Enjoy it with milk or yoghurt and fruit toppings of your choice.
GOOD STUFF TO KNOW:
If you like a really crunchy muesli add 1tbsp of vegetable oil to the mix at the same time you add the apple juice. Just remember this will bump up the kilojoules.
If you like your fruit a little chewy, add this to the mixture for the last 10 minutes of the baking time.
Not a toasted muesli fan? Simply combine everything except for the apple juice to make a natural style muesli.
You may wonder why I give weights for many of my recipes. Some might say laziness however I prefer to say efficiency. One bowl on a set of scales does away with all those pesky cups for measuring. It's as simple as that.
Karen xx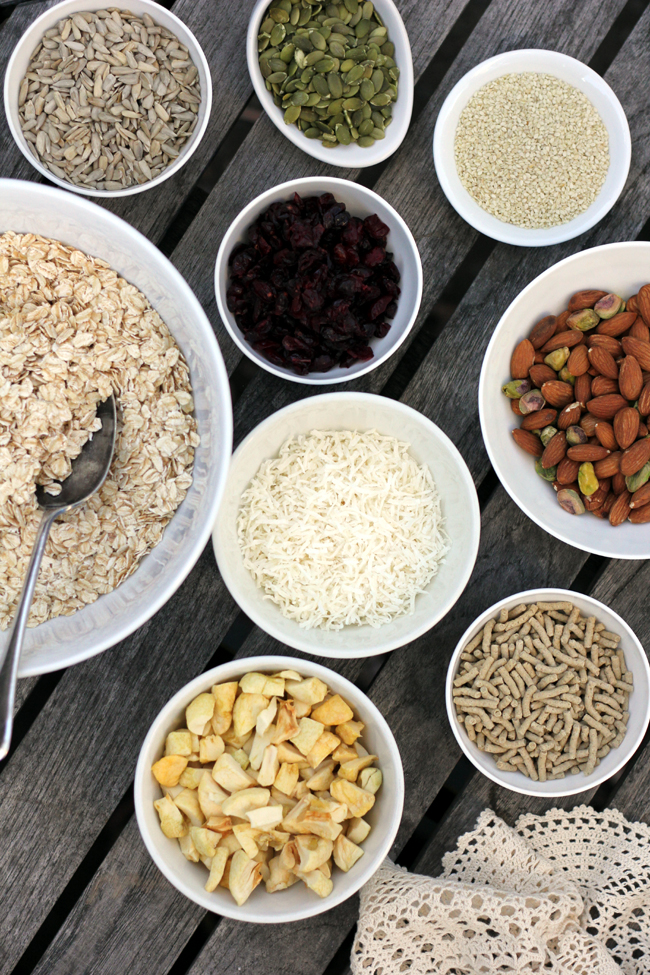 29
Nov
2013

The smell of freshly baked bread is a real appetite stirrer but to be honest I'm not really a fan of making bread the traditional way. It's not all the kneading, I quite enjoy that. It's all the waiting around. I'm an impatient soul.
So when presented with this recipe some years ago now, I was keen to try it. Why? Because most of the waiting happens while I sleep or doing other things.
The recipe actually originates from Jim Lahey, owner of the Sullivan St Bakery in Soho New York. It's actually credited with" igniting a worldwide home-baking revolution" when it was first reported by Mark Bittman in the New York Times in 2006. 
The version I started with was an adaptation by Suzanne Gibb published in Table Magazine back in 2007. Suzanne has modified it further in The Thrifty Kitchen, a well used book in my kitchen. The recipe below is still largely true to its Jim Lahey origins with a little help from bread improver if you like and an option to use a wholemeal flour (I am a nutritionist after all). The main difference lies in the method. I have picked up tips along the way that make handling that wet dough a little easier.
I generally mix this bread up around 3-4pm on a Friday or Saturday afternoon This means it can be baked sometime on the morning of the following day. Timing is loose and the recipe quite forgiving. Give it a try and let me know how you go, or if you have your own version don't be shy, share the link. 
No-knead bread
Makes 1 loaf
3 cups (450g) plain all purpose flour OR 250g wholemeal and 200g  white
1tsp bread improver (optional)
¼ tsp instant dry yeast
1tsp salt
Flour, burghul, cornmeal or wheat bran (optional) to dust
Add dry ingredients to a large bowl and whisk to combine (this is an alternative to using a sieve which is handy when you use wholemeal flour as bran just doesn't sieve). Add 1 ½ cups of tepid water and stir until well mixed.
Cover bowl with plastic wrap and then a tea towel and leave to sit out of the way of draughts at room temperature for 12-18 hours. A little less or more won't greatly affect outcome. The surface should be covered with lots little bubbles.
Then, back to your dough, liberally flour a work surface (I use a plastic tray to contain the mess) and scrape the dough out on to it. The dough will be really sticky and look like goop. Avoid using your hands, you'll regret it.
Using a scraper turn the edges in to form a flour coated dough ball. Do this three or four times but don't over work it.
Transfer dough to a sheet of baking paper and place into a mixing bowl. Cover with plastic wrap for 30 min.
Note, Jim uses a tea towel sprinkled with flour or bran to wrap his dough in. If your dough is relatively dry this works fine however my dough always seems way too wet and I end up with a doughy cloth that is horrid to wash.
That's why I use the baking paper. Baking paper is not used to stop the bread sticking in the pot but to make it easier to move the dough around.
While your dough is proving, Put the oven on to pre-heat to 240C or 220C fan forced and put your lidded baking pot in at the same time. This pot can be any oven-proof, lidded pot such as a Le Creuset, Glass Pyrex or Dutch oven. But it could also be a Pizza stone with stainless steel bowl to act as a lid, heat proof dish with aluminium foil etc. The aim is that it should be all nice and hot when the bread is ready to go in.
When 30 minutes is up and your pot is nice and hot, remove it from oven and carefully pick the dough up with the baking paper and place into the pot (take care I have had some beauty burns from this step). For a rustic look, slash the top with a sharp knife and sprinkle with a little flour, wheat bran or polenta and carefully replace the lid and return to the oven.
 Bake for 30min and then remove the lid. You should just start to see some colour to the loaf at this point.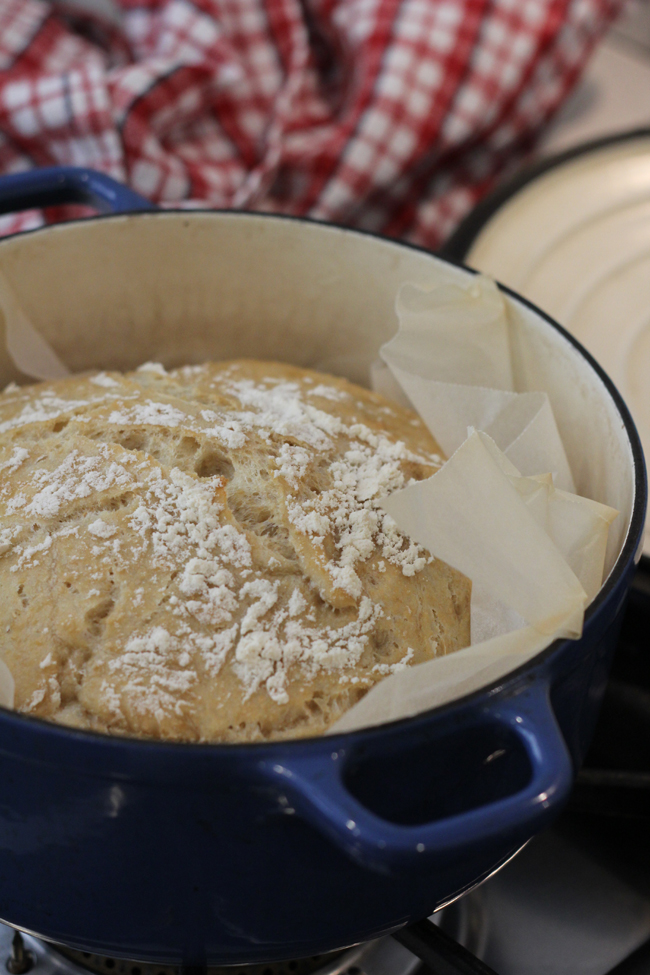 Return your pot to oven and bake uncovered for a further 15-20 min or until it's cooked to your liking. Turn out onto a bread board or wire rack to cool or slice and eat warm – yum, yum!
GOOD STUFF TO KNOW:
It's the steam created by the lid that helps produce the crisp crust.
For an even crisper loaf all over rather than just the top, remove from the pot and place on a wire rack for the last 10min of cooking.
For a shiny top brush with a little beaten egg.
Add seeds or grains to the mix for interest or try a white/rye flour combination (1/3 rye to 2/3 white flour).
If you're keen to see what else you can do with a no knead dough check out what Janet from Utah does with it on her site Simply so Good. She has also spent more time photographing the method which you might find helpful.
And if you are interested in a faster no-knead bread, Mark Bittman (who seems a tad obsessed by this bread) talks to Jim Lahey about his quick version on YouTube. Hang out till the end to get Jim's advice on the best variation for a quicker result.