27
May
2014

It's so easy to fall into autopilot with cooking. Especially when you're busy juggling multiple commitments for yourself and your family. Looking back through the diary that holds my week together, it seems we've been eating from the same five or six recipes for months…
The redemption of a long overdue cooking class gift voucher was just the remedy I needed to re-invigorate my interest in cooking.
Shared with a couple of girlfriends and a glass of wine (only once we'd finished cooking of course…) the Middle Eastern Banquet with Nourishing Nosh was a fun night, full of great take home tips. My favourites being how to beat the seeds from a pomegranate, char an eggplant over the gas burner without completely trashing your cooker, and source Australian grown quinoa [I honestly thought it all came from South America].
I love to cook and am by no means a novice in the kitchen, but no matter how much you know, I think you'll agree, there is always something new to learn when you visit someone else's kitchen.
The lovely Louise has generously allowed me to share the recipe for her gluten free Quinoa Tabouli. So enjoy the food porn from the night and jump over to the recipe if you're keen to have a go at this modern take on traditional tabouli.
Enjoy
Karen xxx
24
May
2014

This thoroughly modern take on a traditional and very well known Lebanese salad is just as quick to make as the original version using bulgar (cracked wheat). It comes to Green Tea & Treacle via the lovely Louise Edney who runs the Nourishing Nosh Cooking School.
Quinoa (pronounced keen-wa) is often mistaken for a grain but is in fact a seed. Originating in the Andes region of South America it's gluten free, protein and fibre rich and low GI.
The popularity of quinoa over the past few years has seen it move from a novel ingredient to mainstream item, and it can now be readily purchased in the health food section of most local supermarkets in Australia.
Louise tells me that like grains, quinoa is high in phytates and soaking helps to release these making its other nutrients more readily available. If you have the time start this recipe the day before. If you don't, simply prepare your quinoa as per the directions given to you on pack.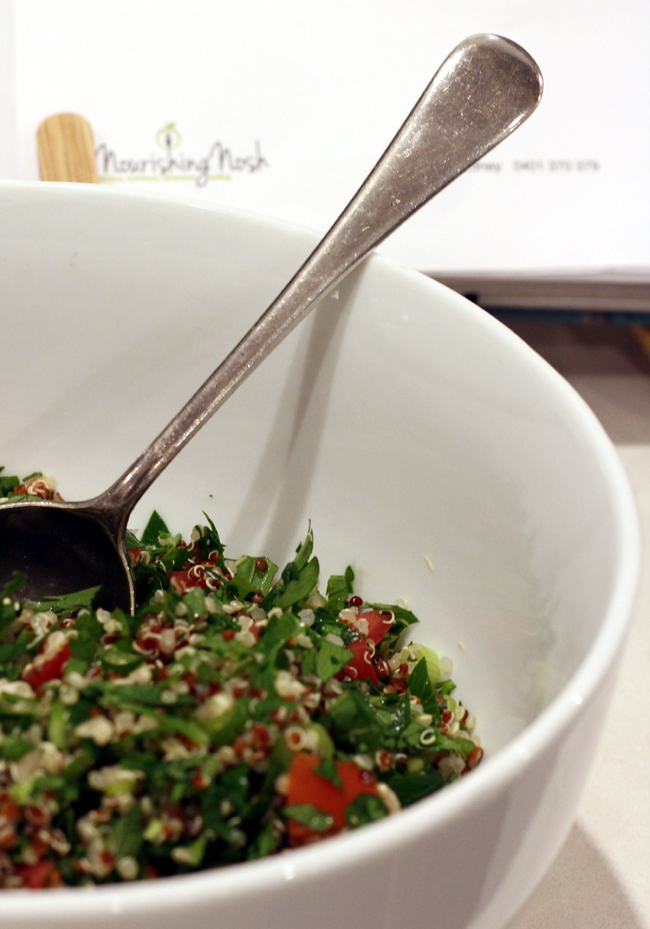 Quinoa Tabbouleh
Serves 8 as a banquet dish
¾ cup dried quinoa
½ cup spring onions, thinly sliced (this is about 4)
2 cups parsley
¼ cup mint, roughly chopped
500g tomatoes, deseeded and chopped
Dressing
¼ cup olive oil
2 tbsp lemon juice (roughly the juice of one lemon)
1 tsp salt
½ tsp pepper
Rinse and soak quinoa in warm acidulated water overnight or for a few hours (water containing acid such as lemon or lime juice or whey.)
Drain the quinoa and add to a saucepan of water. Bring to the boil and them reduce to a simmer and cook for 5 minutes*. The cooking time is reduced with soaking. Quinoa is cooked when you can see a light "halo" around the grain. Strain gently through a sieve and spread out to dry.
In the meantime prep the salad vegetables.
Combine quinoa and spring onions in a bowl and squeeze gently together so that the quinoa takes on the taste of the spring onions.
Before combining all of the ingredients set some tomato and parsley aside. Add the herbs and tomatoes to the quinoa and mix well.
Combine dressing ingredients in a small jar and shake well. Dress just before serving and top with reserved parsley and tomatoes.
*Note that the cooking time varies considerably and if you are used to cooking your quinoa without soaking, you need to halve the cooking time.
If you've not really introduced yourself to quinoa and want to get better acquainted, here are a few fabulous recipe destinations that will help you to get to know it better:
Quinoa Salad with lemon, basil and a touch of cumin from Heidi at Apples under my bed
Warm salad of roast cauliflower & quinoa (and some great quinoa facts) by Jules at Stone Soup
Quinoa With Roasted Pumpkin, Zucchini and Basil Pesto by Teresa the Healthy Chef
Enjoy
Karen xxx
21
May
2014

It's with renewed vigour that I tap away at my keyboard all fired up to bring you my news.
What's so exciting you ask?
Having just spent last week immersed in the world of nutrition with over 700 dietitians and nutritionists, my head is spinning. But today it's not nutrition secrets I want to share. Today it's a little treasure produced by a good friend and colleague Emma from Scoop Nutrition.
Em's a great collaborator. Something easily seen after a quick stroll around Scoop, so of course there are another three great women involved and all with great credentials.
So what's the secret?
It's a fabulous little e-book that unloads a wealth of collective and hard earned understanding about finding your voice on social media; The scoop on Blogging Secrets for health & lifestyle bloggers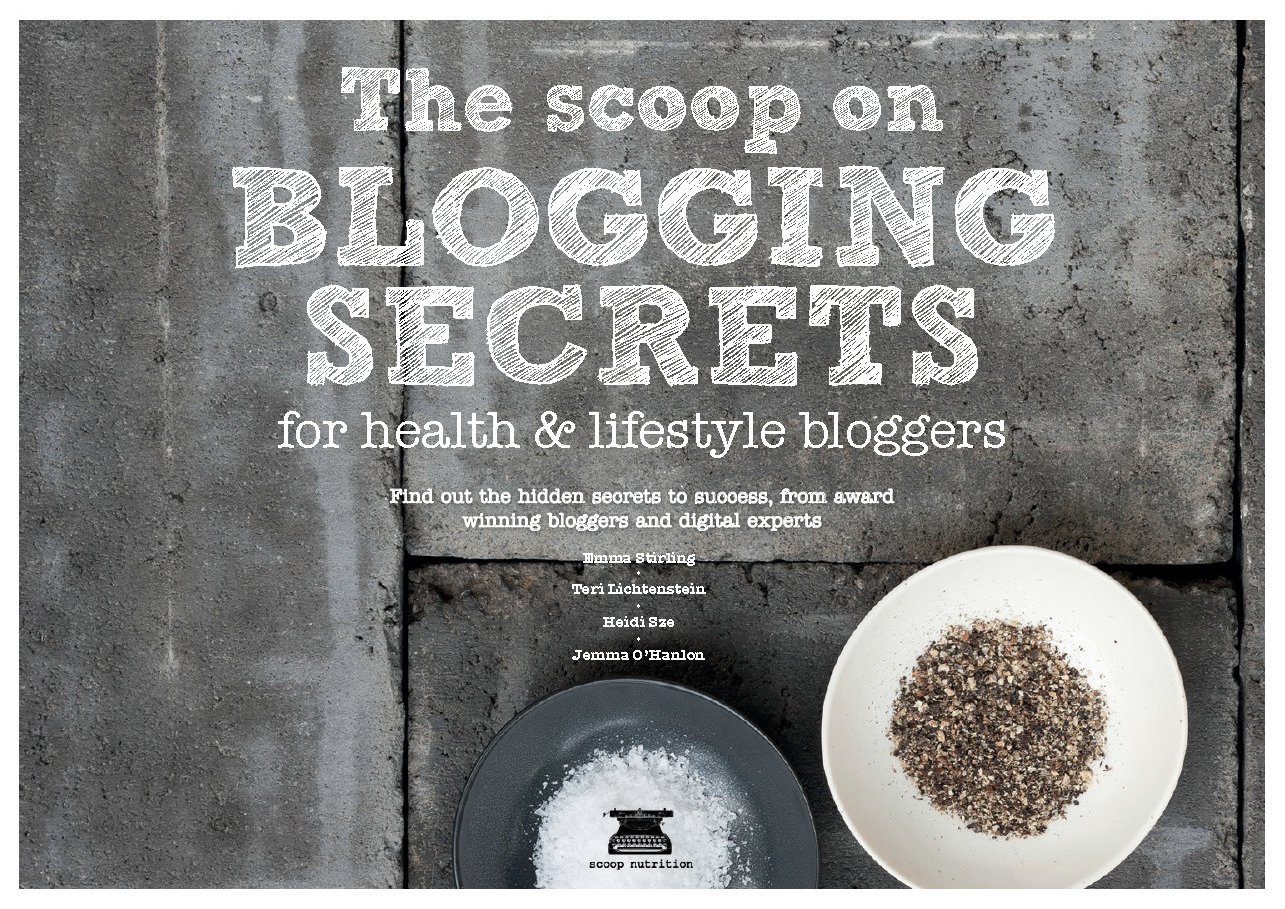 I'm busy devouring it now and looking forward to applying its insights into improving my ability to share more with you my lovely readers.
So, if you're thinking of taking a blogging journey, are mid-flight or, like me have already begun but still have so much to learn, consider an investment* in your blogging future. I'm sure you won't be disappointed.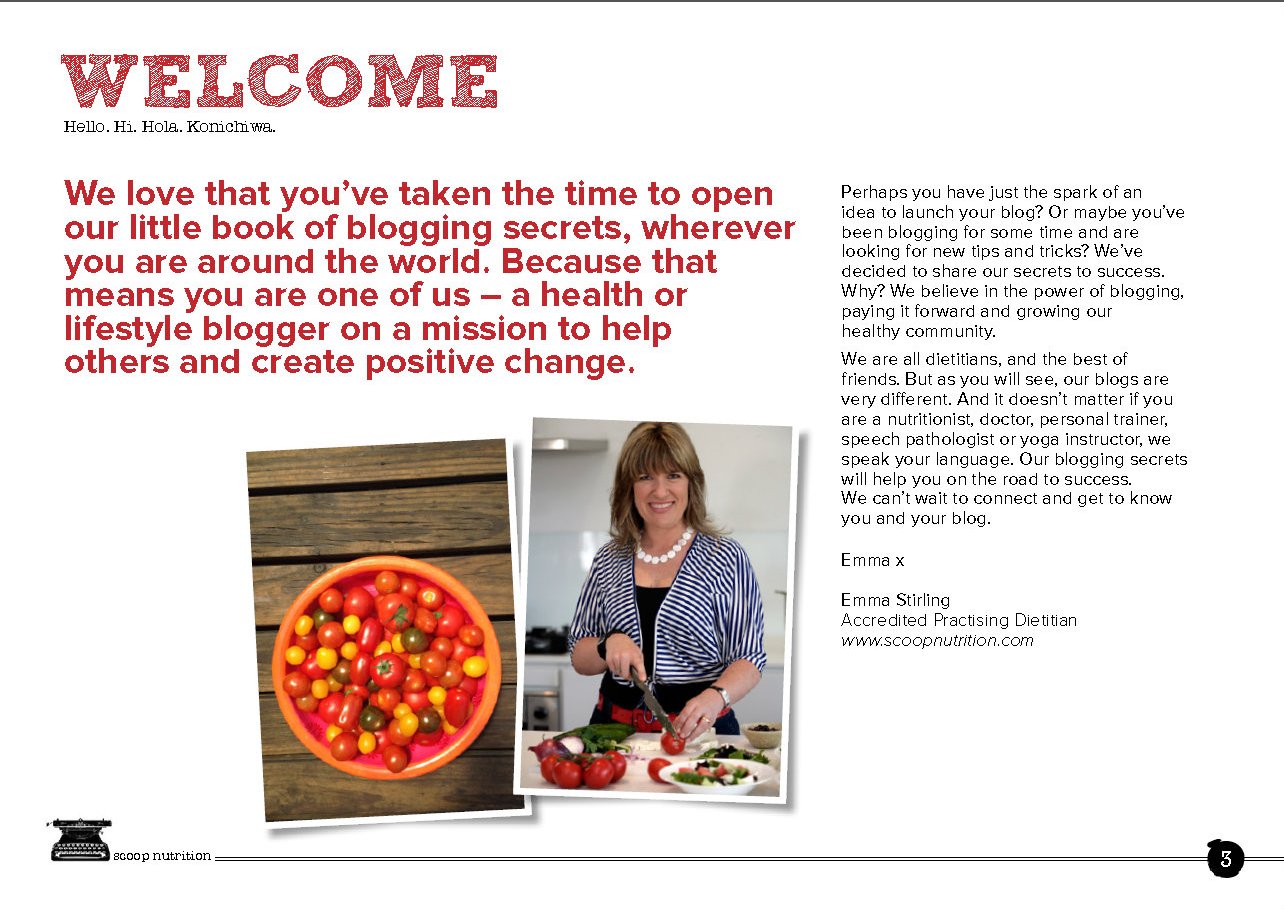 Meet the Blogging Secrets team:
Emma Stirling
Teri Lichtenstein
Heidi Sze
Jemma O'Hanlon
www.eatsleepdreamlovefood.blogspot.com
*I was fortunate enough to have received a free copy of this e-book as part of my attendance at Blogging Bootcamp for Dietitians a workshop held at the 2014 Dietitians Association of Australia's  annual conference. However this post has not been sponsored or solicited in any way and is simply about paying it back to a wonderful friend who has given this baby blogger so much of her time and valuable experience in the past.
 karen xxx