18
Dec
2014

I was lucky enough hear one of the world's biggest gurus on calcium, Professor Connie Weaver speak at a symposium hosted by Dairy Australia last month.
As our best and most available source of dietary calcium, you can't really avoid talking dairy if you want to talk about dietary calcium.
So what did I learn and what can I share?
Interestingly, while many of us avoid dairy to maintain our weight, lower blood cholesterol or reduce the risk of type 2 diabetes, research actually shows regular dairy habit (milk, yoghurt, cheese) is linked to a reduced risk of

heart disease
stroke
type 2 diabetes
high blood pressure
some cancers
bone fracture
When milk is a source of calcium in our children's growing years they're likely to have bigger, denser and stronger bones.
People who are regular dairy consumers tend to have better diets overall.
To absorb the same amount of calcium as a glass of milk you'd need to eat over 9 cups of kidney beans, 8 cups of spinach or 1 cup of almonds – phew, that's hard work!
Dairy can still be an option if you've lactose intolerance; Swiss, cheddar and other hard types of cheeses have minimal lactose and should be well managed by all except the most sensitive.
Half of our adult bone mass is accrued during adolescence; take home here is the teen years are critical for strong bones in later life
When 8 out of 10 Australians don't get their daily recommended serves of dairy, my worry is for our children who have so much to gain from a diet that gives them enough calcium to develop a hardy skeleton.
To spur on the dairy lover in you and your family here are a couple of lovely recipes to share.
Eat, enjoy and grow strong bones.
Xx
Karen
Roasted Parmesan wedges
Serves 4
300g potatoes well scrubbed
300g orange sweet potato, well scrubbed
1 tsp oil
40g finely grated Australian parmesan cheese
Cut each potato into 6-8 chunky wedges and place in a microwave steamer with 2 tablespoons water. Cook on HIGH for 5 minutes, until par-cooked. Drain and stand for 10 minutes.
Toss potatoes in a bowl with oil and cheese until coated. Transfer to a baking paper lined tray and roast at 180°C for 30 minutes or until cooked and golden. Serve hot from the oven.
Beetroot lentil and feta salad
This salad is a particular favourite of mine and it always gets comments as it tastes as good as it looks.
Serves 6
450g can whole baby beetroot drained
400g can lentils, drained and rinsed
2 spring onions (shallots) finely sliced
50g wild rocket
2 tsp olive oil
¼ cup crumbled fetta cheese
freshly ground pepper to taste
Cut any larger beetroot in half and combine with lentils and spring onions in a bowl.
Add the rocket and drizzle with combined oil and vinegar. Gently toss to coat.
Transfer salad to a serving platter, scatter with feta and a grinding of pepper.
Tip
This salad makes a great addition to the Christmas table. Try roasting your own beets and add a handful of walnuts to make it even more special.
I attended the Dairy Australia Scientific Symposium as a guest of Dairy Australia and the above recipes are two of my personal favourites from Dairy Australia's Healthy Recipes with dairy Foods 
xx Karen
30
Nov
2014

It's easy to get caught up in first world problems and assume this is how it is for most.
But it was with new insight that I spent an evening with an inspirational bunch of women from The Sisterhood in the local parish kitchen preparing food for disadvantaged families on behalf of GIFT.
Three hours, 7 women, 100 meals…
It was that simple.
Distributed by the local Link Community Food Care Centre and St Vincent de Paul the meal packs we prepared also included a recipe sheet; just in case families wanted to cook it again.
Organisations such as these are in increasing demand despite the fact that Australia was ranked second in the world for average wealth in 2013.
The fact is that poverty in this 'wealthy' country of ours continues to increase. One in seven Australians live below the poverty line according to the latest report of the Australian Council of Social Service. Even more disturbing is that this effects one in six of our children.
It's highly likely someone down your street is struggling.
Want to help?
We have some great national organisations looking out for Australians in need and they are always looking for more support:
But why not look into your own community. I'm sure you'll find some fabulous groups doing some amazing things.
Money is always in demand but for me, finding time to give is really the ultimate gift…
xx
Karen
22
Oct
2014

It's been toooo long. So as my family sleeps I type, determined to complete this post rather than allow it to join the growing collection of half completed offerings amassing in my GT&T folder.
Tonight I'm also having a rare moment of organisation. The kofta's are prepped and on their sticks ready to be cooked for tomorrow nights tea and, because I couldn't find my favourite eggplant dip, the house smells like an out of control barbecue. I have been charring eggplant.  I have the cutest little cooking rack that came from my nutrionsista Nicole, which works a real treat, and given the lateness of the hour I'm  pleased I didn't set the smoke alarm off…
The length of time you choose to char your eggplants will determine the potency of their smokiness. David Lebovitz loves his super-smoky and suggests 10 minutes over a naked flame. I found 5 minutes is plenty to get a good dose of smokiness in medium sized eggplants. To char or not to char seems to incite a great deal of debate and I love how Fouad Kassab from the food blog was so inspired by The Perfect Baba Ghanouj Recipe that he took to rhyme!
We'll have our baba ganoush with lamb kofta's, salad and wholegrain wraps – we love a self assembly meal in our house and they're brilliant for engaging reluctant young eaters to participate in a meal.
Baba Ganoush
Serves 4-6 as an accompaniment to a meal or as a dip
1 large or 2 medium eggplants
3tbsp (60ml) lemon juice
3tbsp (60ml) tahina (sesame paste)
1-2 garlic cloves
½ tsp sea salt (or to taste)
Small handful parsley
Olive oil to serve (optional)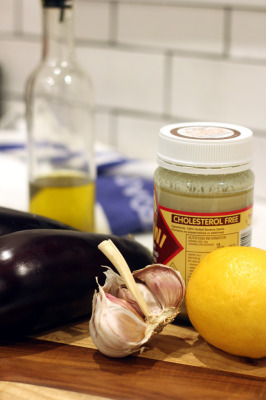 Preheat oven to 180C and line a baking tray with paper or foil.
Line your gas burner with aluminium foil, prick your eggplants several times and sit them directly over the gas flame on a wire rack. If you don't have a gas stove, char them directly under the grill. Turn your eggplants regularly so they char evenly.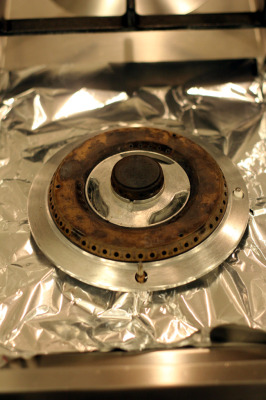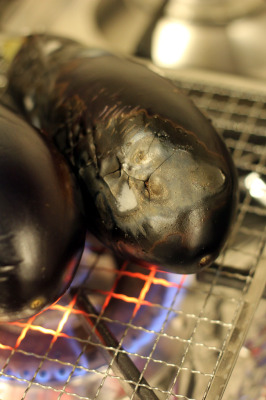 When charred to your liking remove from heat, place eggplants on the lined baking tray and roast in the oven 20-30 minutes. Eggplants are done when they are soft enough to collapse.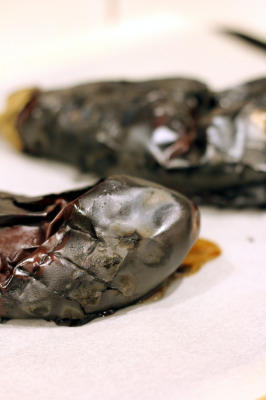 Remove from the oven and cool.
Split them open carefully and scrape out the creamy pulp.
Puree pulp and remaining ingredients until smooth. If you prefer a more rustic style like Fouad, mash the ingredients together with a fork .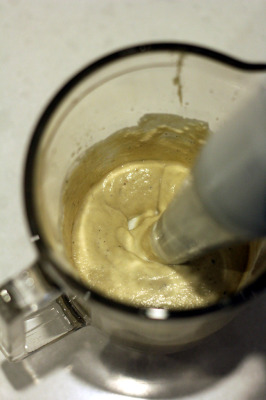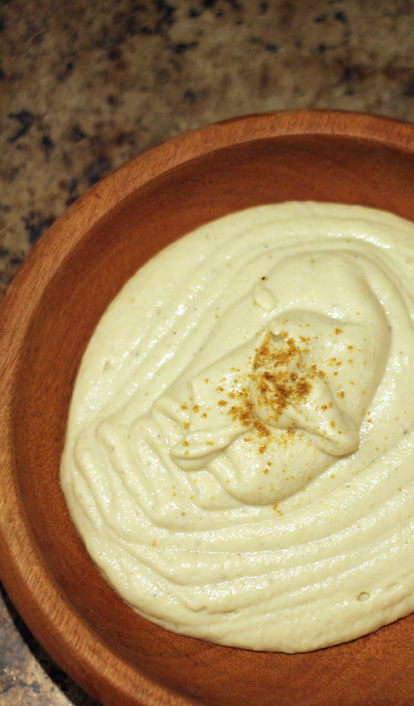 Note: I line my stove to keep it clean. If you are unable to char using a flame or grill, simply cook in the oven till soft.
Tip: Make enough for the next day, the flavour is even better!
 Enjoy
Karen xxx