22
Oct
2014

It's been toooo long. So as my family sleeps I type, determined to complete this post rather than allow it to join the growing collection of half completed offerings amassing in my GT&T folder.
Tonight I'm also having a rare moment of organisation. The kofta's are prepped and on their sticks ready to be cooked for tomorrow nights tea and, because I couldn't find my favourite eggplant dip, the house smells like an out of control barbecue. I have been charring eggplant.  I have the cutest little cooking rack that came from my nutrionsista Nicole, which works a real treat, and given the lateness of the hour I'm  pleased I didn't set the smoke alarm off…
The length of time you choose to char your eggplants will determine the potency of their smokiness. David Lebovitz loves his super-smoky and suggests 10 minutes over a naked flame. I found 5 minutes is plenty to get a good dose of smokiness in medium sized eggplants. To char or not to char seems to incite a great deal of debate and I love how Fouad Kassab from the food blog was so inspired by The Perfect Baba Ghanouj Recipe that he took to rhyme!
We'll have our baba ganoush with lamb kofta's, salad and wholegrain wraps – we love a self assembly meal in our house and they're brilliant for engaging reluctant young eaters to participate in a meal.
Baba Ganoush
Serves 4-6 as an accompaniment to a meal or as a dip
1 large or 2 medium eggplants
3tbsp (60ml) lemon juice
3tbsp (60ml) tahina (sesame paste)
1-2 garlic cloves
½ tsp sea salt (or to taste)
Small handful parsley
Olive oil to serve (optional)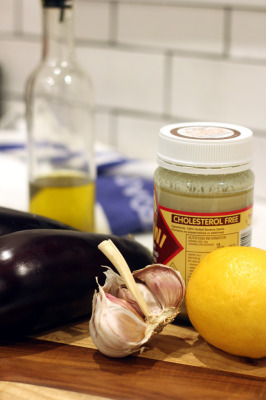 Preheat oven to 180C and line a baking tray with paper or foil.
Line your gas burner with aluminium foil, prick your eggplants several times and sit them directly over the gas flame on a wire rack. If you don't have a gas stove, char them directly under the grill. Turn your eggplants regularly so they char evenly.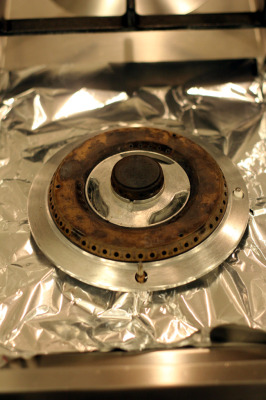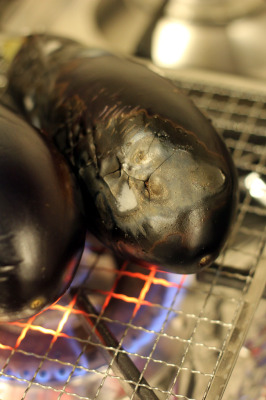 When charred to your liking remove from heat, place eggplants on the lined baking tray and roast in the oven 20-30 minutes. Eggplants are done when they are soft enough to collapse.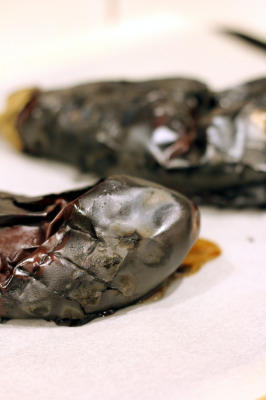 Remove from the oven and cool.
Split them open carefully and scrape out the creamy pulp.
Puree pulp and remaining ingredients until smooth. If you prefer a more rustic style like Fouad, mash the ingredients together with a fork .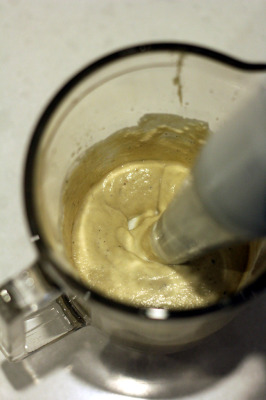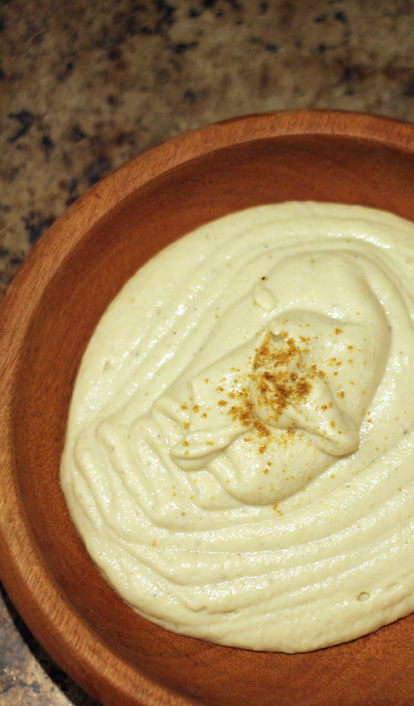 Note: I line my stove to keep it clean. If you are unable to char using a flame or grill, simply cook in the oven till soft.
Tip: Make enough for the next day, the flavour is even better!
 Enjoy
Karen xxx
8
Oct
2014

Can you believe it? Green Tea & Treacle is a year old today!
It's been an interesting year tiptoeing around in the blogging world. And if you're reading this then I thank you for joining me on this little jaunt.
Life took a sharp turn at about the time I launched this blog. So the anticipated hours of free time to create, compose and seek out fabulous blogging opportunities never really eventuated. In fact initially I was sure my baby blog was doomed before it had begun.
I'm so glad that it wasn't.
My family do think I am slightly nuts. There is little time to forward plan a post in my fly-by-the-seat-of-your-pants world. So if it looks good at the time everyone sits with forks poised or pan positioned as I whip out the trusty DSLR. I love to photograph food.
So as I blow out the happy first birthday candle my wish for the year ahead is that I continue to find the joy in eating, cooking and living Green Tea & Treacle, a lot of green, a little sweet, and that you keep dropping by to say hello either here or on the facebook page…
Karen xx
12
Sep
2014

I've never really subscribed to the cookie cutter sandwiches or funny face dinner type of encouragement to get my children to eat. It's not that I doubt their worth, it's just I'd rather put my energies into other creative aspects of food preparation… Each to their own you know?
So my thing is finding the joy of grown up meals for kids. In some ways it's selfish as I have always preferred not to cook more than one meal if I can help it but it can certainly help reap the rewards in time saved with meal preparation and the ease with which children will eat at the family table. The key is finding the twist you can add to make these meals just that little bit more interesting. Especially to the little people at your dinner table with short attention spans.
I got to thinking about this while writing  my last post Enjoy Family Meals and again when preparing a recent webinar for The Parents Jury, How to Win the Food War.
My absolute winner meal was discovered whilst at our local Chinese with a then four and two year old in tow. Rice was always a hit but on this occasion we gave the San Choy Bow a try. Boy was it a winner. And why wouldn't it be? Lettuce cups instead of bowls, hands instead of cutlery and easy to eat tasty mince – this meal ticks lots of boxes for kids.
My children are now 11 and 9 and a mid-week San Choy Bow continues to be greeted with gleeful enthusiasm and remains the only way Master 9 will eat lettuce. I've streamlined the process somewhat and only attempt iceberg lettuce cups delicately shaped with the kitchen scissors on a weekend when I have time for that much attention to detail.
Trust me, this recipe is truly a quick mid-week meal that won't suffer from the absence of a few ingredients either. Ad lib as you need just don't leave out the water chestnuts; their crunchy texture really makes this dish and I always make sure there's a tin somewhere in the depths of my pantry… Enjoy!
Sang Choy Bow
Serves 4
Cooking time around 10 minutes
 2 baby cos lettuce, washed and leaves separated
1tbsp vegetable oil
Small onion finely diced
3 shallots (green onions) trimmed and finely sliced
3cm piece ginger, grated (approx 2 tsp)
500g lean pork mince
2 tbsp oyster sauce
1tbsp light soy sauce
1tsp sesame oil
2tbsp water (optional for a moister mix)
225g tin water chestnuts, drained and diced
10 snow peas finely sliced (more if you prefer)
Steamed rice, bean sprouts, canned corn and fresh coriander to serve
Select the best leaves from your lettuces keeping in mind those lovely small leaves will be perfect for small hands. Soak them in iced water for a crisper finish if you want.
Heat oil in a wok or large fry pan and stir fry onion, shallots and ginger for a 1-2 minutes before adding the pork mince. Cook five minutes until cooked through.
Add sauces, water if using, sesame oil, water chestnuts and snow peas. Continue to cook a further 2-3 minutes before transferring to a serving bowl.
Arrange lettuce leaves on a platter and place in the centre of the table along with rice and your families choice of accompaniments letting everyone serve themselves. My children love canned sweet corn (use no-added salt varieties if you can)  while the grown-ups prefer bean sprouts and coriander.
It can get a little messy so make sure you've plenty of napkins handy and enjoy the tasty fun!
Note: Sang Choy Bow is not traditionally served with rice as it's usually an entrée on restaurant menus. A family meal without some sort of energy giving carbohydrate isn't going to see many through the night however, so I team this meal with rice – white, brown or red depending on what is in my pantry.
 Karen xx
Ps
Other fun family meals to try include:
Skewers – use thin pieces of chicken breast with mushroom and cherry tomatoes
Fajitas – wrapping up your food in tortillas is always special
Chili Con carne –  a handful of plain corn or tortilla crisps makes this meal quickly disappear