11
Oct
2013

Make: Sticky chicken with sesame and chilli
I love a recipe you can cook straight from the pantry without need for a major shopping expedition. A recipe you can turn to when at 3pm you realize you have NO IDEA what you are going to cook for dinner. Recipe's like these are literally, sanity savers.
I had one of these 3pm panics recently and on this occasion Katie Quinn Davies on page 187 of her book What Katie Ate, rescued me. Thank you Katie!
And what's even better, we loved every finger licking bit of it (I will confess not every apparently great recipe I find goes down this well). Master 8 wore a sticky chickeny grin that literally spread from ear to ear – he was that into it. I warn it's not a 30 minute recipe (though with a bit of morning prep I have managed it after work) but once it's in the oven there's time for home work and the excitement of an overflowing laundry basket.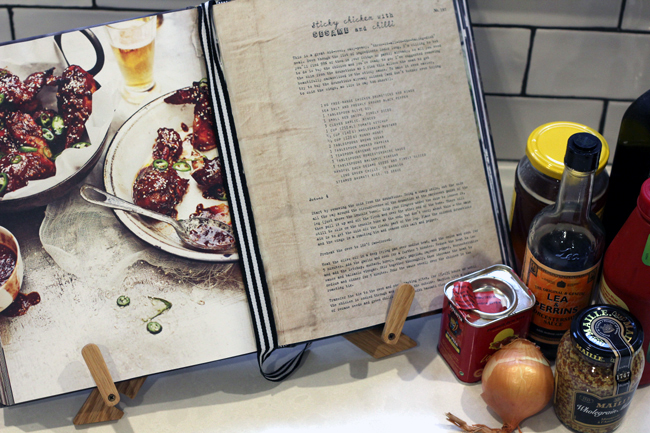 Sticky chicken with sesame and chilli
From: What Katie Ate: Recipes and other Bits and Bobs (slightly modified)
Serves 4
1kg chicken drumsticks (around 10 depending on size) skin removed
1 tbsp olive oil
1 small onion, finely diced
3 cloves garlic, minced
1 cup (250ml) tomato sauce
½ cup (140g) whole grain mustard
1/3 cup (120g) runny honey
2 tbsp brown sugar
1tsp cayenne pepper (omit if you have kids who don't like it hot)
3 tbsp Worcestershire sauce
3tbsp balsamic vinegar
Handful each of sesame seeds and finely sliced long green chilli to garnish
Steamed basmati rice and green veggies to serve 
Preheat oven to 160C fan forced
Arrange drumsticks in a baking tin lined with foil (trust me it'll clean up a breeze).
Heat oil in a fry pan and cook onion over a medium heat for about 5 minutes. Add garlic and cook a further 5 minutes or so.
Mix together tomato sauce, mustard, honey, sugar, pepper if using, Worcestershire sauce and vinegar in a small bowl before adding to pan. Simmer for 5 minutes
Pour sauce evenly over chicken and cook basting often for 1¼ – 1½ hours or until chicken is sticky and cooked through.
Serve with basmati rice and green veggies, garnished with a sprinkle of sesame seeds and chilli if you like.
TIPS:
Skin the chicken by gripping the loose skin at the large meaty end with paper towel and pulling it away toward the knuckle. If you get a good grip you can often simply pull it all the way off and over. Kind of like taking off a slippery sock!
If you slash the fleshy parts of the drumsticks you will find the cooking time reduces to around an hour.
Invest in a bulk 2L container of tomato sauce as this recipe seriously depletes the supply.