24
Nov
2013

Come on join me. I have a jar on my desk filled with them. They make the perfect snack. Satisfying, crunchy and just the thing when you have that 'I'm hungry but don't want a piece of fruit feeling' – you know what I mean don't you?
But more than a convenient snack nuts are actually good for you too. You might remember a time when nuts were taboo in a healthy diet – I certainly do. Too high in fat and kilojoules was what I learnt in my University days. But as with many things to do with health, things change as research puts more of the pieces together for us. 
In a nutshell (pardon the pun) we now know that nuts:
 Won't make you fat: researchers looking at the diets of over 50 000 women over the course of 8 years found that women who ate nuts more often were more likely to be leaner than those who didn't.
 Are good for your heart: a handful of nuts (around 30 grams) eaten at least five times a week can cut your risk of heart disease by as much as 50% plus keep blood cholesterol down.
 Might help you live longer: in one of the largest studies of its kind (over 115 000 men and women followed up for over 30 years) scientists found those eating nuts daily were more likely to live longer than those who didn't.
And the secret to healthy nut eating my friends is to enjoy them unsalted and in small amounts – a handful or around 30 grams makes a satisfying snack for most of us and will take the edge off  hunger.
If you want to know more, why not visit the website of Nuts For Life maintained by the Australian tree nut industry. They've plenty of great easy to read fact sheets to download plus loads of recipes.
And if you like visuals, take a look at this Quick Take video by the prestigious publication The New England Journal of Medicine which explains the results of the most recent study on nut eating and mortality (AKA death). 
Finally, if you like a nut based snack with a bit of pizzazz, hop on over to Scoop Nutrition where Emma has a real treat for you!
References:
Am J Clin Nutr. 2009;89:1913–9. 
Nutr Metab Cardiovasc Dis. 2001;11(6):372–7.
N Engl J Med. 2013;369:2001-2011
9
Nov
2013

If you, like me covet pretty jars for things that may or may not come to fruition: think jam, relish, pickles or some amazing crafty thing you spied when blog cruising, then you like me might also want jars that aren't defaced decorated with branding. You may also like me, prefer not to have to resort to drastic measures to remove a lid sucked on vacuum tight. My weapon of choice in the past has been the back of a heavy knife. A good whack on the side is generally is enough to break the vacuum seal (not the jar) and allow the lid to be removed easily. But, the lids look a bit sad and beaten about and I think the dent in the side has the potential to compromise any future seal you might want for jams and relishes etc. 
Resigned to a collection of pock marked prospective jam jars, out of the blue Mr D comes home with this wonder of inventions. The BRIX JarKey®. 
My what a beauty. It never fails to succeed and lids in my kitchen are now removed with ease and more importantly without blemish. Love it! 
What 'good thing' is tucked away in your kitchen drawer?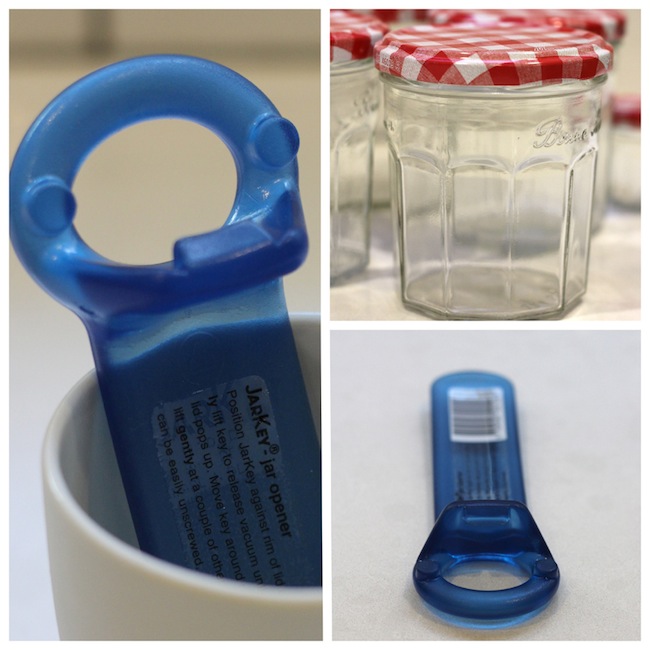 28
Oct
2013

I'm partial to a good linen tea towel. Though sometimes they look too good to waste on the dishes so I hang them on the wall instead….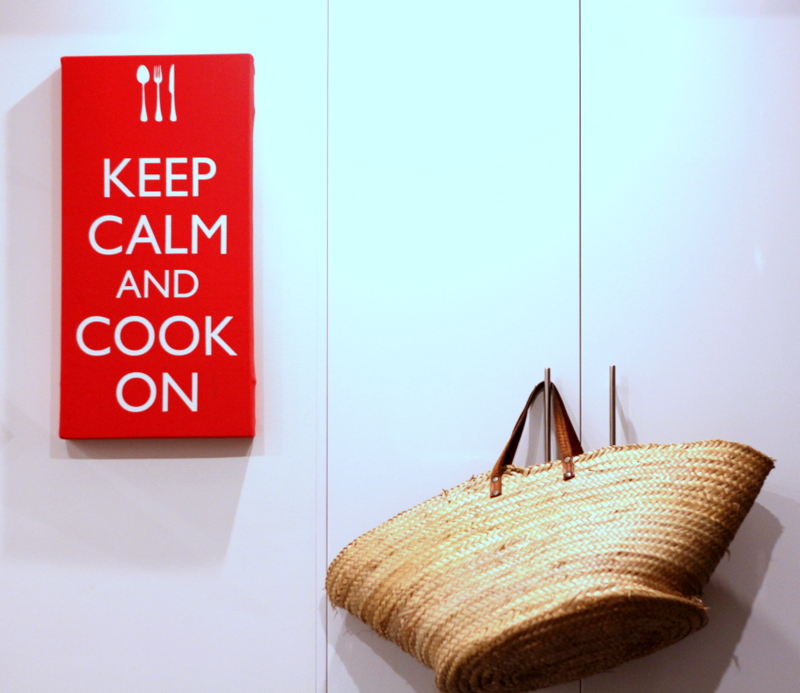 And with a little time to spare one evening I went browsing for something special. And I came across these. This one here ticks quite a few boxes for Green Tea & Treacle…
And the lovely thing about these beauties is they also do a little social good. Cabo Pickles (powered by smiles) is the shop front for local Indonesian industries which support the work of the charity Foundation 18.
Foundation 18, established in 2010 by Australian Cate Bold supports a group home and educational outreach for children in the Balinese village of Ringdikit and more recently it has added elder care to its charitable focus.
I love a purchase that gives back. Do you?